Life Cycle Emissions: EVs vs. Combustion Engine Vehicles
Subscribe to the Elements free mailing list for more like this
Life Cycle Emissions: EVs vs. Combustion Engine Vehicles
This was originally posted on Elements. Sign up to the free mailing list to get beautiful visualizations on real assets and resource megatrends each week.
According to the International Energy Agency, the transportation sector is more reliant on fossil fuels than any other sector in the economy. In 2021, it accounted for 37% of all CO2 emissions from end‐use sectors.
To gain insights into how different vehicle types contribute to these emissions, the above graphic visualizes the life cycle emissions of battery electric, hybrid, and internal combustion engine (ICE) vehicles using Polestar and Rivian's Pathway Report.
Production to Disposal: Emissions at Each Stage
Life cycle emissions are the total amount of greenhouse gases emitted throughout a product's existence, including its production, use, and disposal.
To compare these emissions effectively, a standardized unit called metric tons of CO2 equivalent (tCO2e) is used, which accounts for different types of greenhouse gases and their global warming potential.
Here is an overview of the 2021 life cycle emissions of medium-sized electric, hybrid and ICE vehicles in each stage of their life cycles, using tCO2e. These numbers consider a use phase of 16 years and a distance of 240,000 km.
| | | Battery electric vehicle | Hybrid electric vehicle | Internal combustion engine vehicle |
| --- | --- | --- | --- | --- |
| Production emissions (tCO2e) | Battery manufacturing | 5 | 1 | 0 |
| | Vehicle manufacturing | 9 | 9 | 10 |
| Use phase emissions (tCO2e) | Fuel/electricity production | 26 | 12 | 13 |
| | Tailpipe emissions | 0 | 24 | 32 |
| | Maintenance | 1 | 2 | 2 |
| Post consumer emissions (tCO2e) | End-of-life | -2 | -1 | -1 |
| | TOTAL | 39 tCO2e | 47 tCO2e | 55 tCO2e |
While it may not be surprising that battery electric vehicles (BEVs) have the lowest life cycle emissions of the three vehicle segments, we can also take some other insights from the data that may not be as obvious at first.
The production emissions for BEVs are approximately 40% higher than those of hybrid and ICE vehicles. According to a McKinsey & Company study, this high emission intensity can be attributed to the extraction and refining of raw materials like lithium, cobalt, and nickel that are needed for batteries, as well as the energy-intensive manufacturing process of BEVs.
Electricity production is by far the most emission-intensive stage in a BEVs life cycle. Decarbonizing the electricity sector by implementing renewable and nuclear energy sources can significantly reduce these vehicles' use phase emissions.
By recycling materials and components in their end-of-life stages, all vehicle segments can offset a portion of their earlier life cycle emissions.
Accelerating the Transition to Electric Mobility
As we move toward a carbon-neutral economy, battery electric vehicles can play an important role in reducing global CO2 emissions.
Despite their lack of tailpipe emissions, however, it's good to note that many stages of a BEV's life cycle are still quite emission-intensive, specifically when it comes to manufacturing and electricity production.
Advancing the sustainability of battery production and fostering the adoption of clean energy sources can, therefore, aid in lowering the emissions of BEVs even further, leading to increased environmental stewardship in the transportation sector.
Ranked: The World's Top Cobalt Producing Countries
Cobalt, an essential component for certain types of EV batteries, has seen a significant shift in its global production landscape.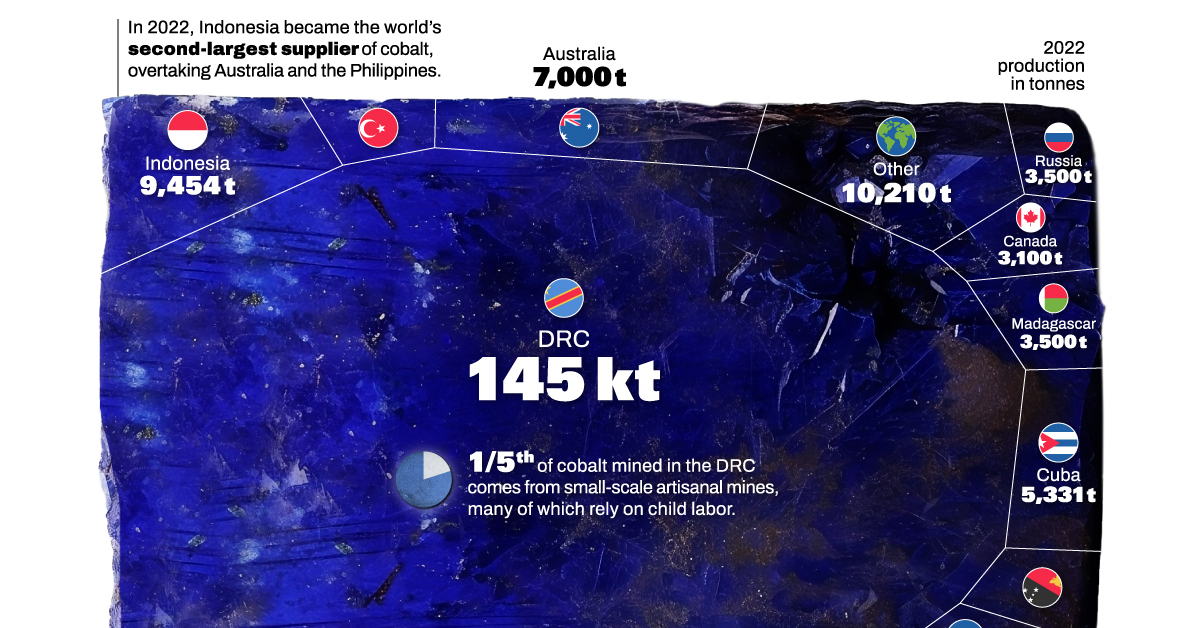 Ranked: The World's Top Cobalt Producing Countries
This was originally posted on Elements. Sign up to the free mailing list to get beautiful visualizations on real assets and resource megatrends each week.
Cobalt, an essential component of key chemistries of the rechargeable lithium-ion batteries used in EVs, has seen a significant shift in its global production landscape.
The Democratic Republic of Congo (DRC) has long been the world's largest cobalt producer, accounting for 73% of global output in 2022.
However, according to the Cobalt Institute, the DRC's dominance is projected to decrease to 57% by 2030 as Indonesia ramps up its cobalt production as a byproduct from its rapidly expanding nickel industry.
Indonesia Became Second Largest Cobalt Producer in 2022
Indonesia accounts for nearly 5% of global cobalt production today, surpassing established producers like Australia and the Philippines.
In 2022, Indonesia's cobalt production surged to almost 9,500 tonnes from 2,700 tonnes in 2021, with the potential to increase production by tenfold by 2030.

| Country | 2022 Production (tonnes) | % of Total Production |
| --- | --- | --- |
| 🇨🇩 DRC | 144,936 | 73.3% |
| 🇮🇩 Indonesia | 9,454 | 4.8% |
| 🇦🇺 Australia | 7,000 | 3.5% |
| 🇵🇭 Philippines | 5,400 | 2.7% |
| 🇨🇺 Cuba | 5,331 | 2.7% |
| 🇷🇺 Russia | 3,500 | 1.8% |
| 🇲🇬 Madagascar | 3,500 | 1.8% |
| 🇨🇦 Canada | 3,100 | 1.6% |
| 🇵🇬 Papua New Guinea | 3,060 | 1.5% |
| 🇹🇷 Türkiye | 2,300 | 1.2% |
| 🌐 Other | 10,210 | 5.2% |
| Total | 197,791 | 100.0% |
Percentages may not add to 100 due to rounding.
In total, global cobalt production reached 197,791 tonnes, with the DRC contributing just under 145,000 tonnes of that mix.
The EV industry is the largest consumer of cobalt, accounting for approximately 40% of total demand. The exponential growth of the EV sector is expected to drive a doubling of global cobalt demand by 2030.
While the shift in cobalt production is notable, it is not without challenges. Plummeting cobalt prices, which fell almost 30% this year to $13.90 a pound, have severely impacted the DRC.
Furthermore, the longer-term prospects of cobalt could face hurdles due to efforts to reduce its use in batteries, partly driven by human rights concerns associated with artisanal cobalt mining in the DRC and related child labor and human rights abuses.
In a 2021 ruling by a federal court in Washington, Google parent Alphabet, Apple, Dell, Microsoft, and Tesla were relieved from a class action suit claiming their responsibility for alleged child labor in Congolese cobalt mines.
The Future of Cobalt
Despite ongoing efforts to substitute cobalt in battery applications, cobalt is expected to remain a vital raw material for the entire battery supply chain in the near future.
The demand for cobalt is forecasted to more than double by 2030 to 388,000 tonnes.