Nvidia Joins the Trillion Dollar Club
Nvidia Joins the Trillion Dollar Club
Chipmaker Nvidia is now worth nearly as much as Amazon.
America's largest semiconductor company has vaulted past the $1 trillion market capitalization mark, a milestone reached by just a handful of companies including Apple, Amazon, and Microsoft. While many of these are household names, Nvidia has only recently gained widespread attention amid the AI boom.
The above graphic compares Nvidia to the seven companies that have reached the trillion dollar club.
Riding the AI Wave
Nvidia's market cap has more than doubled in 2023 to over $1 trillion.
The company designs semiconductor chips that are made of silicon slices that contain specific patterns. Just like you flip an electrical switch by turning on a light at home, these chips have billions of switches that process complex information simultaneously.
Today, they are integral to many AI functions—from OpenAI's ChatGPT to image generation. Here's how Nvidia stands up against companies that have achieved the trillion dollar milestone:
Joined Club
Market Cap
in trillions
Peak Market Cap
in trillions
Apple
Aug 2018
$2.78
$2.94
Microsoft
Apr 2019
$2.47
$2.58
Aramco
Dec 2019
$2.06
$2.45
Alphabet
Jul 2020
$1.58
$1.98
Amazon
Apr 2020
$1.25
$1.88
Meta
Jun 2021
$0.68
$1.07
Tesla
Oct 2021
$0.63
$1.23
Nvidia
May 2023
$1.02
$1.02
Note: Market caps as of May 30th, 2023
After posting record sales, the company added $184 billion to its market value in one day. Only two other companies have exceeded this number: Amazon ($191 billion), and Apple ($191 billion).
As Nvidia's market cap reaches new heights, many are wondering if its explosive growth will continue—or if the AI craze is merely temporary. There are cases to be made on both sides.
Bull Case Scenario
Big tech companies are racing to develop capabilities like OpenAI. These types of generative AI require vastly higher amounts of computing power, especially as they become more sophisticated.
Many tech giants, including Google and Microsoft use Nvidia chips to power their AI operations. Consider how Google plans to use generative AI in six products in the future. Each of these have over 2 billion users.
Nvidia has also launched new products days since its stratospheric rise, spanning from robotics to gaming. Leading the way is the A100, a powerful graphics processing unit (GPU) well-suited for machine learning. Additionally, it announced a new supercomputer platform that Google, Microsoft, and Meta are first in line for. Overall, 65,000 companies globally use the company's chips for a wide range of functions.
Bear Case Scenario
While extreme investor optimism has launched Nvidia to record highs, how do some of its fundamental valuations stack up to other giants?
As the table below shows, its price to earnings (P/E) ratio is second-only to Amazon, at 214.4. This shows how much a shareholder pays compared to the earnings of a company. Here, the company's share price is over 200 times its earnings on a per share basis.
| | P/E Ratio | Net Profit Margin (Annual) |
| --- | --- | --- |
| Apple | 30.2 | 25.3% |
| Microsoft | 36.1 | 36.7% |
| Aramco | 13.5 | 26.4% |
| Alphabet | 28.2 | 21.2% |
| Amazon | 294.2 | -0.5% |
| Meta | 33.9 | 19.9% |
| Tesla | 59.0 | 15.4% |
| Nvidia | 214.4 | 16.19% |
Consider how this looks for revenue of Nvidia compared to other big tech names:
$NVDA $963 billion market cap, 38x Revenue
$MSFT $2.5 trillion market cap, 12x Revenue$TSLA $612 billion market cap, 7.8x Revenue$AAPL $2.75 trillion market cap, 7.3x Revenue$GOOG $1.6 trillion market cap, 6.1x Revenue$META $672 billion market cap, 6x Revenue pic.twitter.com/VgkKAfiydx

— Martin Pelletier (@MPelletierCIO) May 29, 2023
For some, Nvidia's valuation seems unrealistic even in spite of the prospects of AI. While Nvidia has $11 billion in projected revenue for the next quarter, it would still mean significantly higher multiples than its big tech peers. This suggests the company is overvalued at current prices.
Nvidia's Growth: Will it Last?
This is not the first time Nvidia's market cap has rocketed up.
During the crypto rally of 2021, its share price skyrocketed over 100% as demand for its GPUs increased. These specialist chips help mine cryptocurrency, and a jump in demand led to a shortage of chips at the time.
As cryptocurrencies lost their lustre, Nvidia's share price sank over 46% the following year.
By comparison, AI advancements could have more transformative power. Big tech is rushing to partner with Nvidia, potentially reshaping everything from search to advertising.
Where are Immigrant Founders of U.S. Unicorns From?
The majority of billion-dollar startups in the U.S. have at least one immigrant founder. Here is where those founders are from.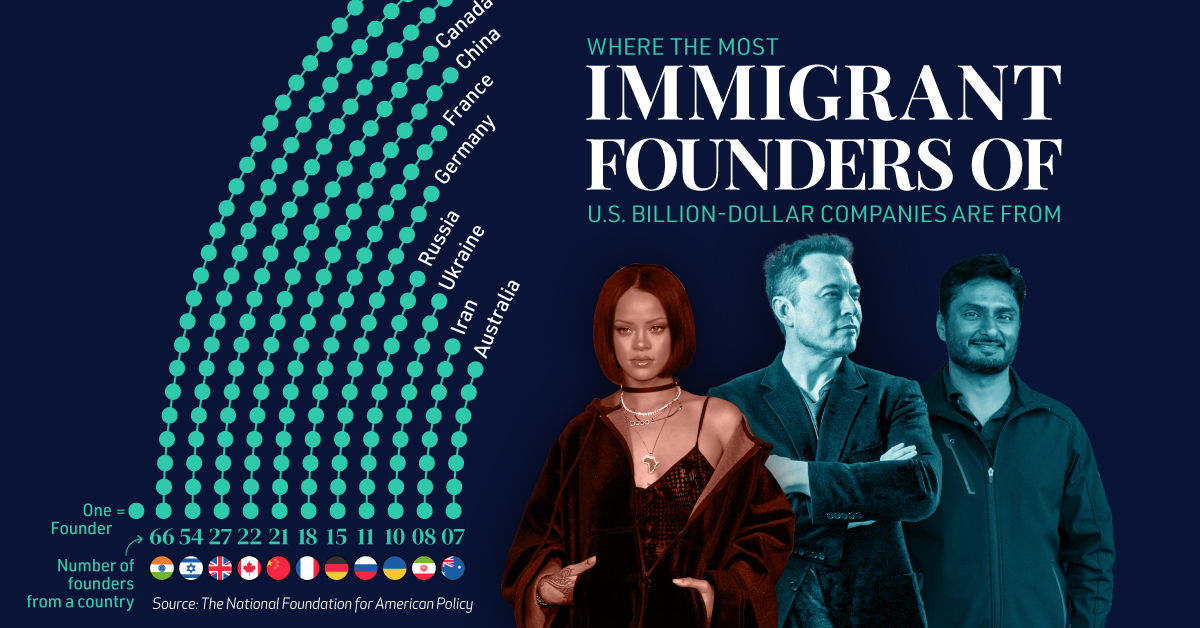 Where are Immigrant Founders of U.S. Unicorns From?
The majority of U.S. unicorns—private startups worth more than $1 billion—have at least one immigrant founder, according to the National Foundation for American Policy (NFAP).
While some of the companies and founders are well known, like SpaceX from South Africa's Elon Musk, hundreds of lesser-known unicorns have been founded from the top talent of just a handful of countries.
This visual using NFAP data lays out the countries which are home to the most U.S. billion-dollar startup founders as of May 2022.
Note: These rankings are based on unicorn valuations as of May 2022. As valuations regularly fluctuate, some companies may have gained or lost unicorn status since that time.
Countries with the Most U.S. Unicorn Founders
Here's a look at the countries that these immigrant founders come from.
The 382 founders accounted for below have combined to start 319 of 582 U.S.-based unicorns.
Rank
Country
# Founders of
U.S. Unicorns
1
🇮🇳 India
66
2
🇮🇱 Israel
54
3
🇬🇧 United Kingdom
27
4
🇨🇦 Canada
22
5
🇨🇳 China
21
6
🇫🇷 France
18
7
🇩🇪 Germany
15
8
🇷🇺 Russia
11
9
🇺🇦 Ukraine
10
10
🇮🇷 Iran
8
11
🇦🇺 Australia
7
T12
🇮🇹 Italy
6
T12
🇳🇬 Nigeria
6
T12
🇵🇱 Poland
6
T12
🇷🇴 Romania
6
T16
🇦🇷 Argentina
5
T16
🇧🇷 Brazil
5
T16
🇳🇿 New Zealand
5
T16
🇵🇰 Pakistan
5
T16
🇰🇷 South Korea
5
T21
🇩🇰 Denmark
4
T21
🇵🇹 Portugal
4
T21
🇪🇸 Spain
4
T24
🇧🇾 Belarus
3
T24
🇧🇬 Bulgaria
3
T24
🇮🇪 Ireland
3
T24
🇰🇪 Kenya
3
T24
🇱🇧 Lebanon
3
T24
🇵🇭 Philippines
3
T24
🇿🇦 South Africa
3
T24
🇹🇼 Taiwan
3
T24
🇹🇷 Turkey
3
T33
🇦🇲 Armenia
2
T33
🇨🇿 Czech Republic
2
T33
🇬🇷 Greece
2
T33
🇲🇽 Mexico
2
T33
🇸🇦 Saudi Arabia
2
T33
🇸🇬 Singapore
2
T33
🇨🇭 Switzerland
2
T33
🇺🇿 Uzbekistan
2
T41
🇦🇹 Austria
1
T41
🇧🇩 Bangladesh
1
T41
🇧🇧 Barbados
1
T41
🇨🇴 Colombia
1
T41
🇩🇴 Dominican Republic
1
T41
🇪🇬 Egypt
1
T33
🇬🇪 Georgia
1
T41
🇮🇶 Iraq
1
T41
🇯🇴 Jordan
1
T41
🇱🇻 Latvia
1
T41
🇱🇹 Lithuania
1
T41
🇲🇹 Malta
1
T41
🇲🇦 Morocco
1
T41
🇳🇱 Netherlands
1
T41
🇳🇴 Norway
1
T41
🇵🇪 Peru
1
T41
🇶🇦 Qatar
1
T41
🇸🇮 Slovenia
1
T41
🇻🇪 Venezuela
1
Far in the lead is India with 66 startup founders and Israel with 54 startup founders. Together, they account for 31% of all unicorn founders listed. In fact, more than half of the immigrant unicorn founders came from just six countries: India, Israel, the UK, Canada, China, and France.
These immigrant founders have helped found many of the world's biggest startups:
Stripe was co-founded by Irish brothers Patrick and John Collison
Instacart's founder and former CEO, Apoorva Mehta, was born in India, then moved to Libya and Canada as a child.
Big data startup Databricks was founded by a group of seven computer scientists from the University of California, including five immigrants from Iran, Romania, and China.

Immigration and Entrepreneurship

Though some of these founders came to the U.S. as successful business leaders, the report noted that many immigrated as children or international students.

In addition, there are another 51 founders (not included in the above statistics) that were not immigrants themselves but are first-generation Americans born to immigrant parents. Data from the report also shows that 80% of unicorns have an immigrant in some key role, whether it's as a founder, a C-level executive, or some other crucial position.

Even historically, some of the biggest companies in the U.S. were not founded by Americans. For example, the founders of Procter & Gamble emigrated from England and Ireland in the early 1800s. And today, one of the biggest companies in the U.S. is NVIDIA, which recently broached a trillion dollar market cap and whose founder is from Taiwan.

The Ever-Changing Unicorn Landscape

While this dataset is from mid-2022, it should be noted that the startup ecosystem has shifted drastically in just the last year.

Rapidly rising interest rates and a slowdown in venture capital have conspired to create a more precarious fundraising environment, leading to down rounds and stagnation for some of these billion-dollar companies.

In Q1 2023, unicorn births declined 89%, suggesting that in upcoming years the unicorn list—and the number of immigrant founders—may be subject to change.