Mapped: Food Production Around the World
Mapping the World's Food Production
In a world of nearly 8 billion people, food security is one of the greatest challenges we face.
Roughly 700 million people suffer from hunger every day, lacking access to staple foods like maize, rice, and wheat. While many people often take the availability of food for granted, it's worth taking a moment to identify and acknowledge where the food we consume comes from.
From staple crops to exotic fruit, this interactive map from Our World in Data shows global food production using data from the United Nations Food and Agriculture Organization (FAO).
A Closer Look at Staple Food Production
Which countries produce the foods that we eat every day? Here's a look at the top producers of three of the world's most important staple foods.
Maize (Corn)
Corn or maize is the most widely-grown crop in the Americas, with uses in various industries. While the crop is native to Central America, it is grown in all parts of the world.
| Country | 2019 Production (million tonnes) | % of Global Production |
| --- | --- | --- |
| U.S. 🇺🇸 | 347.0 | 30.2% |
| China 🇨🇳 | 260.8 | 22.7% |
| Brazil 🇧🇷 | 101.1 | 8.8% |
| Argentina 🇦🇷 | 56.9 | 4.9% |
| Ukraine 🇺🇦 | 35.9 | 3.1% |
The U.S. is by far the largest corn producer and exporter, with large amounts of corn coming from the states of Iowa, Illinois, and Nebraska. Over 90 million acres of land is used to grow corn, an area nearly the size of Montana.
The U.S. is also the largest consumer of corn, followed by China, the second-largest producer and consumer.
Wheat
First domesticated in the Middle East, wheat is a versatile crop that grows well in temperate climates. Wheat is usually milled into flour, which is then used to make bread, pasta noodles, biscuits, and other common foods.
| Country | 2019 Production (million tonnes) | % of Global Production |
| --- | --- | --- |
| China 🇨🇳 | 133.6 | 17.4% |
| India 🇮🇳 | 103.6 | 13.5% |
| Russia 🇷🇺 | 74.5 | 9.7% |
| U.S. 🇺🇸 | 52.3 | 6.8% |
| France 🇫🇷 | 40.6 | 5.3% |
China and India combined for nearly 31% of global wheat production in 2019, with Russia, the U.S., and France producing smaller but significant amounts of the crop.
Rice
Chinese hunter-gatherers first cultivated rice 9,400 years ago along the banks of the Yangtze River. It's now the third most-produced crop in the world and a staple food for over 3.5 billion people, primarily in Asia.
| Country | 2019 Production (million tonnes) | % of Global Production |
| --- | --- | --- |
| China 🇨🇳 | 209.6 | 27.7% |
| India 🇮🇳 | 177.7 | 23.5% |
| Indonesia 🇮🇩 | 54.6 | 7.2% |
| Bangladesh 🇧🇩 | 54.6 | 7.2% |
| Vietnam 🇻🇳 | 43.5 | 5.8% |
It's no surprise that the countries with the biggest populations are the top producers of rice. Furthermore, 9 of the top 10 rice producers are in Asia, which is a testament to how important it is for people living in the region.
While maize, wheat, and rice are important staple foods, our diets are shaped by various factors, including geography and culture. Explore the origins of the foods you like using the above interactive visualization.
How to Use the Interactive
For an overview of food production for a particular crop, select the crop using the "Food" drop-down menu, and the map will update automatically. Countries with darker shades of green produce more of the crop, and vice versa. You can hover over countries to see more in-depth production statistics.
To zoom into a specific continent, use the drop-down menu on the right where "World" is selected, and select a region of your choice.
For a historical overview of food production, click the play icon on the bottom left corner of the map, and you'll see how the biggest producers of a crop changed over time.
By clicking the "Chart" button on the bottom left, and selecting the country (or countries) of your choice, you can see production trends over time. You can also look at the data in a tabular format by clicking on the "Table" button.

This article was published as a part of Visual Capitalist's Creator Program, which features data-driven visuals from some of our favorite Creators around the world.
Ranked: The World's Top Cotton Producers
As the most-used natural fiber, cotton has become the most important non-food agricultural product.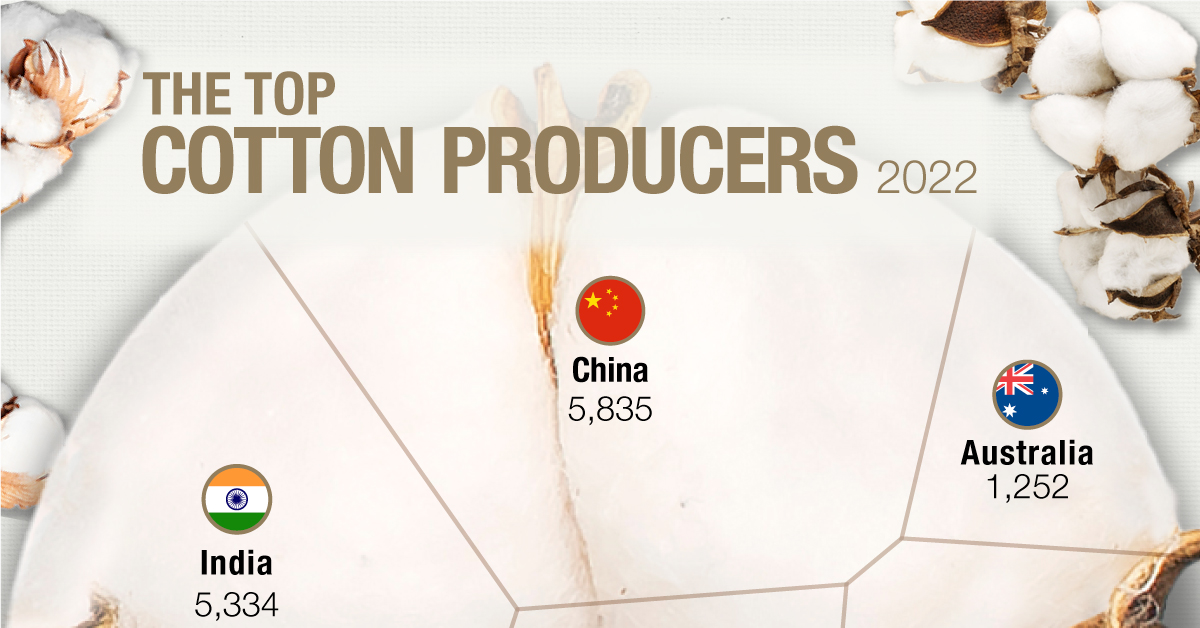 Ranked: The World's Top Cotton Producers
This was originally posted on Elements. Sign up to the free mailing list to get beautiful visualizations on natural resource megatrends in your email every week.
Cotton is present in our everyday life, from clothes to coffee strainers, and more recently in masks to control the spread of COVID-19.
As the most-used natural fiber, cotton has become the most important non-food agricultural product. Currently, approximately half of all textiles require cotton fibers.
The above infographic lists the world's top cotton producers, using data from the United States Department of Agriculture.
Fancy Fabric
Originating from the Arabic word "quton," meaning fancy fabric, cotton is a staple fiber made up of short fibers twisted together to form yarn.
The earliest production of cotton was around 5,000 B.C. in India, and today, around 25 million tons of cotton are produced each year.
Currently, five countries make up around 75% of global cotton production, with China being the world's biggest producer. The country is responsible for over 23% of global production, with approximately 89 million cotton farmers and part-time workers. Cotton's importance cannot be understated, as it is the primary input for the Chinese textile industry along with many other nations' textile industries.
| Top Cotton Producers | 2020/2021 (metric tons) | 2021/2022 (metric tons) |
| --- | --- | --- |
| 🇨🇳 China | 6,445,000 | 5,835,000 |
| 🇮🇳 India | 6,009,000 | 5,334,000 |
| 🇺🇸 United States | 3,181,000 | 3,815,000 |
| 🇧🇷 Brazil | 2,356,000 | 2,504,000 |
| 🇦🇺 Australia | 610,000 | 1,252,000 |
| 🇵🇰 Pakistan | 980,000 | 1,306,000 |
| 🇹🇷 Turkey | 631,000 | 827,000 |
| 🌐 Other | 4,059,000 | 4,282,000 |
| Total | 24,271,000 | 25,155,000 |
The United States is the leading global exporter of cotton, exporting three-fourths of its crop with China as the top buyer.
Despite its importance for the global economy, cotton production faces significant sustainability challenges.
The Controversy Over Cotton
Cotton is one of the largest users of water among all agricultural commodities, and production often involves applying pesticides that threaten soil and water quality.
Along with this, production often involves forced and child labor. According to the European Commission, child labor in the cotton supply chain is most common in Africa and Asia, where it comes from small-holder farmers.
In 2020, U.S. apparel maker Patagonia stopped sourcing cotton from the autonomous territory of Xinjiang because of reports about forced labor and other human rights abuses against Uighurs and other ethnic minorities.
L Brands, the parent company of Victoria's Secret, has also committed to eliminating Chinese cotton from its supply chain. Whether these changes in supply chains impact China's cotton production and its practices, cotton remains essential to materials found across our daily lives.